Nay Dismore, the Hospitality Queen ®
Growing up in a family of 16 (!) helped Nay discover her talent for hospitality. She learned how to feed a large group quickly and inexpensively. In doing so, people started asking her about her snack pretzels and later her other snacks and candies. We have 5 standard flavors plus 2 seasonal flavors of pretzels. Our Bark, Fudge, Marshmallow Pops and Spreads came through ideas and concepts from customers, friends and not a small amount of prayer! We hope you enjoy!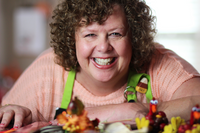 Our Best-selling Pretzels!
How does she do it?
Nay shares where she gets some of her ideas and what do you think is the most frequently asked question about her family?